We Create
Healthy Families
At Get Moving Chiropractic, we focus on gentle, safe, & effective chiropractic for your whole family. Let us help you turn goals into reality.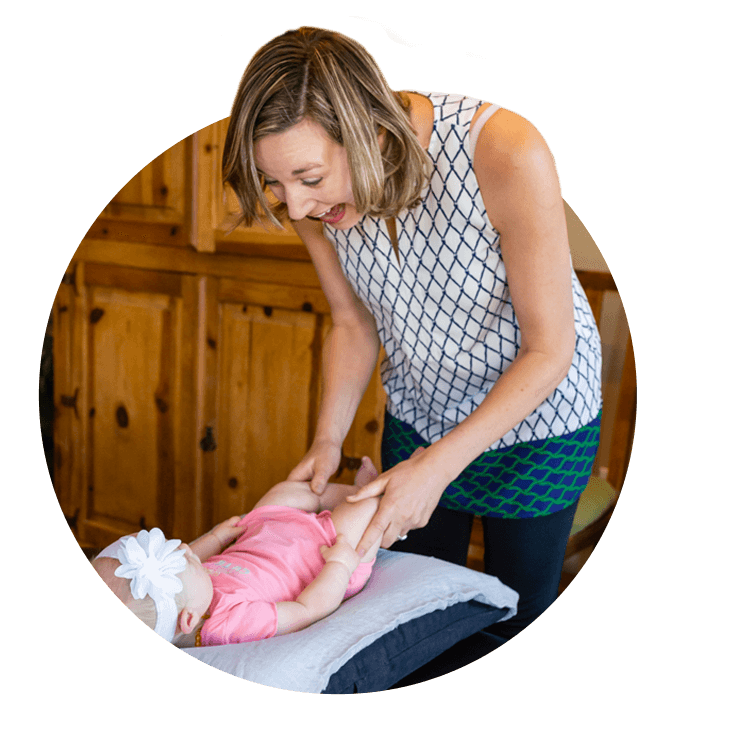 Chiropractor Evergreen CO
Meet Our Doctors
Katy Mooberry DC & Abi Smith DC
Welcome to Get Moving Chiropractic, the office of Dr. Katy Mooberry DC, CACCP, and Dr. Abigail Smith DC. Each day they find great JOY in helping their patients, young and old, move and feel better! Their main goal is to provide effective, evidence-based chiropractic care in Evergreen CO at an affordable price for the entire family. They look forward to helping you and your family "Get Moving!"
Get Moving Chiropractic is located in Evergreen, Colorado but we also serve Golden, Conifer, Bailey, Idaho Springs, Black Hawk, and Central City.
The ONLY Certified Pediatric Chiropractor in the Evergreen Area
Dr. Katy Mooberry has taken many additional hours of continuing education to become certified in Pediatrics, the Webster Technique for Pregnancy, Postural Rehabilitation, and Functional Neurodevelopment to help with sensory processing disorders. She is the ONLY Doctor of Chiropractic with all of these certifications in the Evergreen area, which means she has more training to help your family feel their BEST!!
She believes that when your foundation is strong, then your brain can function better. When you maintain the brain and body connection through proper alignment of the spinal column, then you stay in a normal neurological movement pattern. If you become misaligned or disconnected in the spinal column, then your body and brain are no longer connected and you fall into abnormal, dysfunctional disease patterns. Dr. Mooberry believes that when you build your foundation and keep the brain and body connected you can lead a strong, healthy, active life!
Why should I take my kids to a pediatric chiropractor? Because it's easier to raise healthy kids than to fix sick adults! When we remove abnormal nervous dysfunctional nervous patterns, children can grow up to be strong, healthy adults naturally.
We also specialize in postural rehabilitative care that help restore the proper spinal curves and prevent bony degeneration, such as arthritis. By restoring the proper spinal curvature, we are shifting the body from a compensation pattern back to its normal functional movement patterns. When the body is positioned and moves the way it is designed to move, the symptoms and pain go away and you stay healthier and stronger.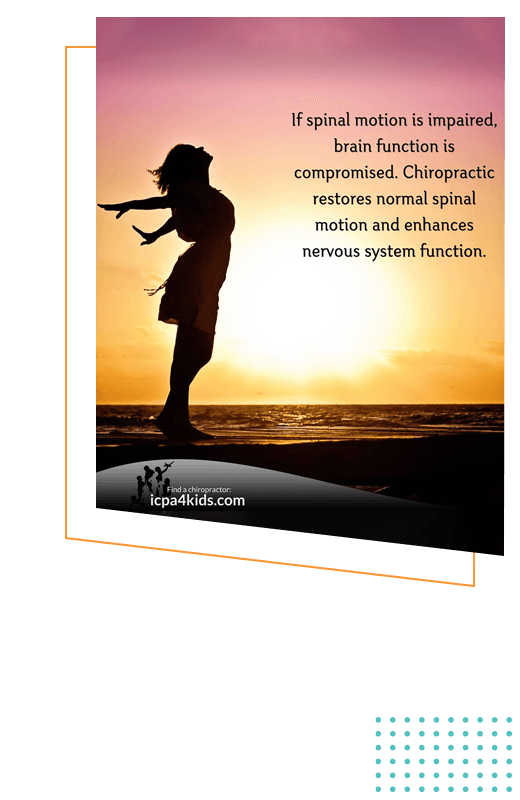 A Healthy Spine Equals a Healthy Brain
At Get Moving Chiropractic our GOAL is restore movement back into the spine so that it can properly stimulate the brain. When the spine is moving WELL, we have NORMAL sensory input to our brains, so we get NORMAL motor output in our bodies. What this means is that with proper movement in our spine, our brains can tell our body how to respond to our environment and we are more calm and happy and relaxed.
Movement Helps the Brain Learn
When we have proper movement patterns in the body, the spinal cord fires properly into the brain, stimulating the areas of the brain that are associated with learning. So, if you want your child to LEARN better, they need to MOVE better! Good thing you are at Get Moving Chiropractic!
What Makes Us Unique
What makes us different from other chiropractors in the area is that our average treatment time is 20-30 minutes, we do active rehab with all patients to correct the underlying problem and we emphasize family wellness care.
preventative and wellness healthcare
We believe that patients should take an active role in their health care because they will get better faster and stay better longer. We specialize in preventative and wellness healthcare because like other preventative measures, chiropractic care can save you time and money by helping you stay healthy. Whether you have a recent injury or a chronic problem we will "get you moving" again on the road to better health and wellness!